About us
Karai Welfare Society (KWS)
Karai Welfare Society (UK) was formed by a group of expatriate Karainagar residents in UK in June 1990. The main objective of this organisation was to "To promote, sponsor and support Educational, Health and other developmental and welfare projects in Karainagar, Sri Lanka". Constitution of Karai Welfare Society was approved at the AGM 1994.
Soon after the formation of the Karai Welfare Society (KWS), the residents of Karainagar had to vacate the island due the war. In 1994-1995 KWS provided assistance to Karainagarians displaced to other parts of the Jaffna peninsula. From 1998 onwards, we provided funds for Karainagar schools, the Peripheral Hospital community organisations and other deserving institutions in Northern Sri Lanka.
Karai Welfare Society now has 175 subscribing members. Monthly membership fee is £5.00 minimum. Audited accounts are annually submitted to the AGM. Since its inception, the KWS has provided over £235,000 for development work. Karai Welfare Society is registered as a charity with the Charity Commission UK (No 1120413).
Board of Trustees of KWS(UK) elected at the AGM on  December 2, 2018 are:-
2018 – 2019 Committee Members

President
Mr Murugesu Yogarajah – Tel: 07881650375
Acting Vice-President
Mrs Rathivathana Saravanabavan
Acting Secretary
Mr Kumarasamy Vigneswaran – T: 07776303739
Acting Vice-Secretary
Mrs Annaluxmy Satkunarajah
Treasurer
Mr Rajendran Tharsan – Tel: 07414618368
Asst Treasurer
Mr Nadarajah Pirabakaran
Other Trustees
Mr Kandiah Rajaratnam
Mr Ponniah Gnananandan
Mrs Chitra Sarvananthan
Mr Nadarajah Ravindran
Miss Thilaka Moorthy
Mr Kandiah Parameswaran
Mr Thiyagarajah Thanapalan
Mr Shanmuganathan Shanmugarajah
Patrons
Mr Vinasithamby Nagendran
Mr Paramanathar Thavarajah
Mr Sivasubramaniam Konesalingam
Senior Citizen of KWS-UK
Mr Rajanayagam Suntharathasan
Board of Trustees of KWS(UK) elected at the AGM on 18th February 2018 are:-
2017 – 2018 Committee Members

President
Mr S. Konesalingham – Tel 07944232014
Vice-President
Mr A. Suntharathasan
Secretary
Dr S. Oshini
Vice-Secretary
Mr S Sivapathasuntharam -Tel 01908 558976
Treasurer
Mr K. Balasubramaniam
Asst Treasurer
Mr P. Gnanananthan – Tel 020 8360 9733
Other Trustees
Dr K. Sandrasegaram
Mrs C. Saravananthan
Mr S. Sivarajah
Mr K. Rajaratnam
Mr N. Ravindran
Mr T. Thevanantham
Mr M. Yogarajah
Mr V. Kumarasamy
Mr S. Panchadcharam
Patrons
Mr R. Suntharathasan
Mr V. Nagendran
Mr P. Thavarajah
Board of Trustees of KWS(UK) elected at the AGM on 16th October 2016 are:-
2016 – 2017 Committee Members

President
Mr S Konesalingham – Tel 07944232014
Vice-President
Mr V. Nagendrum
Secretary
Mr S Panchadcharam – Tel 07737121187
Vice-Secretary
Mr S Kajan
Treasurer
Mr K. Balasubramaniam
Asst Treasurer
Mr A Kandasamy
Other Trustees
Mr S. Kunaratnam
Mr S. Sivarajah
Mr T. Thanabalan
Mrs C. Saravananthan
Mr S. Kirubaharan
Mr K. Rajaratnam
Mr N. Ravindran
Mr T. Thevanantham
Mr R. Sivasubramaniam
Mr K. Balakrishnan
Mr V. Jeyaseelan
Mr M. Balasubramaniyam
Mr A. Pusparajah
Mr T. Thanarajaratnam
Mr S. Kathirgamanathan
Patrons
Mr R. Suntharathasan
Mr P Thavarajah
Board of Trustees of KWS(UK) elected at the AGM on 18th October 2015 are:-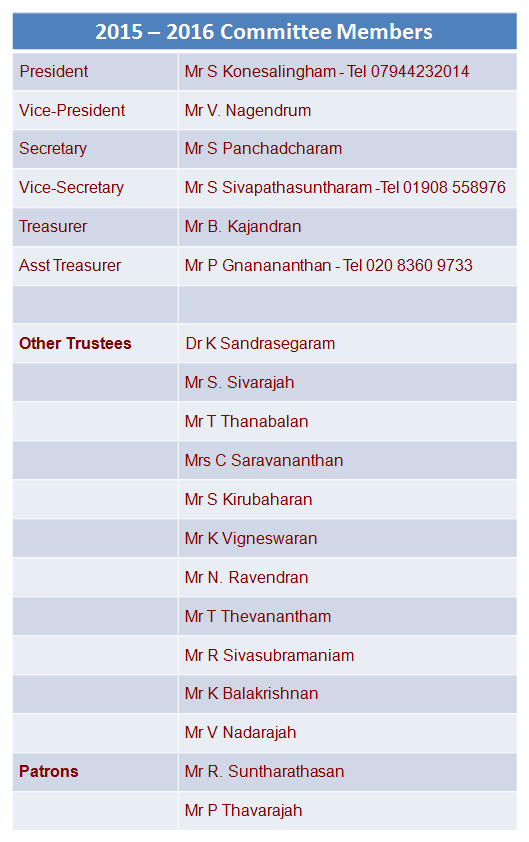 Past year (2014-2015) Board of Trustees (executive committee) of the KWS elected at the AGM on 7th Dec 2014 are:-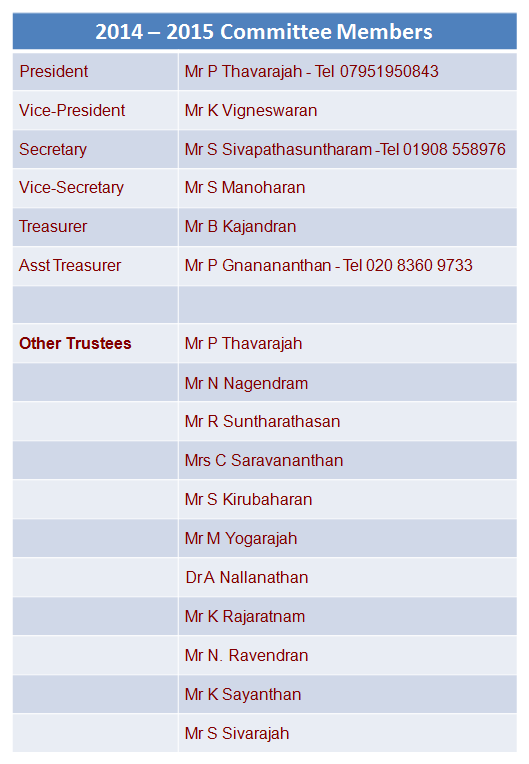 Office address:
Karai welfare Society
127 Cassiobury drive, Watford, Herts WD17 3AH. UK
Telelophone 01923 226000 Fax 01923 238289.Contact Secretary Email: info@karainagar.org