பிரித்தானியா காரை நலன்புரிச் சங்கத்தின் வருடாந்த பொதுக் கூட்டம் 2019
மேற்படி மன்றத்தின் பொதுக் கூட்டம் 08/12/2019 அன்று பிற்பகல் 02.30 மணியளவில் Heather Park Community Centre, Mount Pleasant, Wembley, London, HA0 1SH எனும் மண்டபத்தில் சுமுகமான முறையில் நடைபெற்றது. திரு .மு யோகராசா தலைமையில் ஆரம்பமானது. தொடர்ந்து தலைவர் அறிக்கை, செயலாளர் அறிக்கை , பொருளாளர் அறிக்கைகள் முறையே சபையினர் முன்வைக்கப்பட்டு சபையினரால் ஆமோதிக்கபட்டது.
அடுத்து புதிய நிர்வாகத்தெரிவுக்காக நிர்வாகம் உத்தியோக பூர்வமாக கலைக்கப்பட்டு மீள் தெரிவுக்காக போஷகர் திரு ப தவராஜா அவர்களிடம் ஒப்படைக்கப்பட்டு, கீழ் அமைந்தவாறு புதிய நிர்வாகம் அங்கத்தவர்களினால் சனநாயக முறையில் தெரிவுசெய்யப்பட்டது.
---
Annual General Meeting of Karai Welfare Society (UK) 2019
The general meeting of 2019 was held on the 08/12/2018 at 02.30pm at Heather Park Community Centre, Mount Pleasant, Wembley, London, HA0 1SH. The meeting was commenced by a prayer recited by Mr Thanapalan, followed by President Mr M Yogarajah's speech. The Secretary and the Treasurer's reports for the year 2019 were presented and approved by the members present. The administration was officially dissolved and handed over to Patron Mr Paramanathar Thavarajah, followed by election of a new office by the members present democratically. We here-forth present the new committee of Karai Welfare Society UK for the year 2020. We look forward to working alongside you to repay our ancestral home.
---
Executive committee / Officers :
President : Mr Murugesu Yogarajah
Vice President : Mr Thillainadarajah Shanmuganathan
Secretary : Mr Jeevakanthan Nadarajah
Assistant Secretary : Mr Nadarajah Sivakumaran
Treasurer : Mr Rajendran Tharsan
Assistant Treasurer : Mr Nadarajah Pirabakaran
---
Committee members:
Mr Ponniah Gnananandan
Mr Kandiah Rajaratnam
Mr Arulampalam Nithiyananthasivam
Mr Kandasamy Balakrishnan
Mr Thambirajah Thevanantham
Mrs PUSHPALATHA VAHESAN
Mr Ratnasingam Mayooran
Mr Shanmuganathan Shanmugarajah
Mr Kumarasamy Vigneswaran
Mr Thiyagarajah Gnaneswaran
---
Patrons:
Mr Vinasithamby Nagendran
Mr Paramanathar Thavarajah
Mr Sivasubramaniam Konesalingam
Senior Citizen of KWS-UK:
Mr Rajanayagam Suntharathasan
---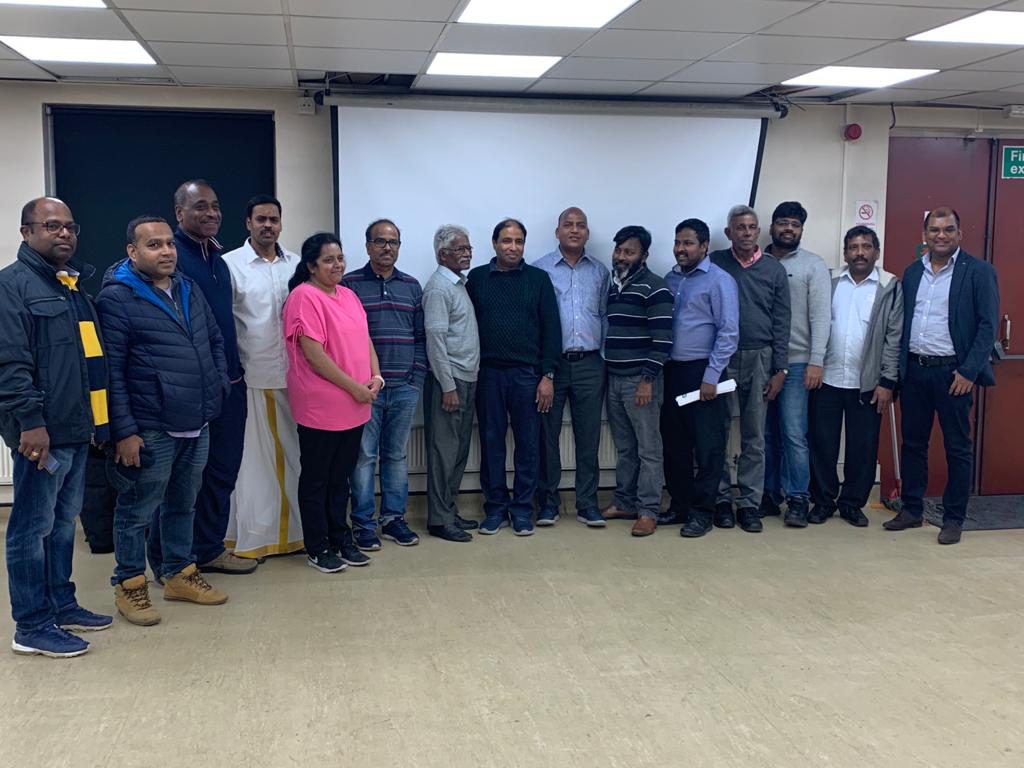 ---
குறிப்பு –
ஒருசில அங்கத்தவர்களினாலும், ஒருசில அங்கத்தவர் அல்லாதவர்களினாலும், குழப்பத்தை ஏற்படுத்தத்தக்க வகையில் சில செயற்பாடுகள் மேற்கொள்ளப்பட்டாலும், வருடாந்த பொதுக்கூட்டம் அதன் நோக்கத்தை நிறைவேற்றி இருந்தது.