காரை குட்டீஸ் 2017 அறிவிப்பு – Karai Kutties 2017 Notification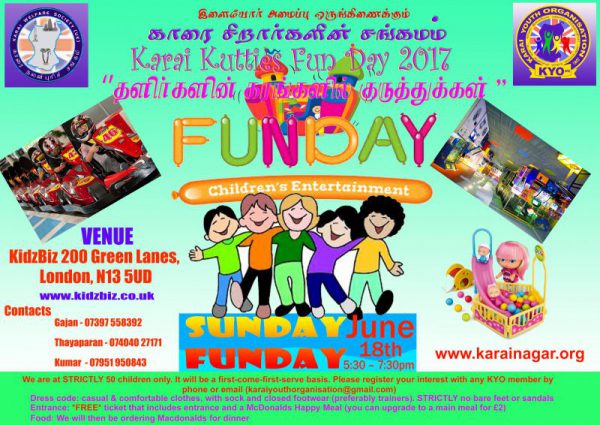 After the success of Karai Kutties 2016, Karai Youth Organisation are once again organising 'Karai Kutties 2017'! We have hired out a whole play area for two hours for some fun and games!
Name:

Karai Kutties Fun Day 2017
Date:

*Sunday 18th June 2017*
Venue:

KidzBiz (200 Green Lanes [entrance via Lodge Drive Car Park], London, N13 5UD
Dress code: casual & comfortable clothes, with sock and closed footwear (preferably trainers). STRICTLY no bare feet or sandals
Food: We will then be ordering Macdonalds for dinner
Entrance: *FREE* ticket that includes entrance and a McDonalds Happy Meal (you can upgrade to a main meal for £2)
We are at STRICTLY 50 children only. It will be a first-come-first-serve basis. Please register your interest with any KYO member by phone or email (
karaiyouthorganisation@gmail.com
)
Please pass the message on to other friends and family who may be interested! Please message me if you have any questions.
KYO – Admin Team